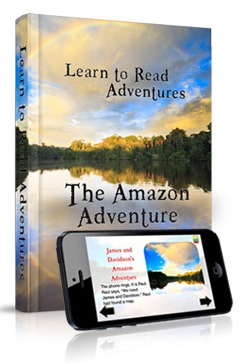 The Learn to Read Adventures series of stories work like the app but are also available in the traditional, printed book format.
The young reader still chooses which way they would like to proceed in the story and will get to enjoy all the real images of the places they go on the adventure.
The printed version of the first book, The Amazon Adventure is complete.  The first run was shipped to those who pre-ordered the book.

If you are interested in ordering customized books, please contact us and we'll be in touch to gather the details of the names you would like in your book along with payment and shipping details. Hardback books are $40 and paperback books are $28.
Thank you again for your interest.