How to Ease Back to School Anxiety and Reading Issues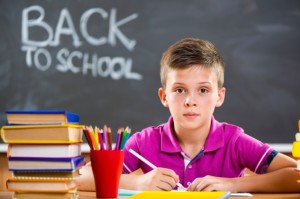 Even though going back to school can be an exciting time for both parents and students, a certain amount of anxiety comes with the beginning of the school year. Much of the anxiety lies with the child. Some typical concerns are about finding new friends, having good teachers, or even can come from inadequacy or disinterest in reading or other subjects.
There are ways to help prepare your child and ease the transition to a new routine. According to Psychology Today, children "have to learn how to effectively deal with their fears in healthy and helpful ways. Avoiding school is not a viable solution."
Help your child cope with the anxiety, and even the fear, of getting back to school this year with the following tricks:
Discuss your child's schedule. No matter their age, you can work to figure out how the typical day will go and help them understand exactly what each subject will entail.
Set aside time to attend orientation and open house. When your student sees the layout of the building, gets their books, and even gets assigned a locker they can better envision a typical day. It is important to prepare your student for changes to their schedule since this does happen in every school.
Encourage growth in favorite subject areas and persistence in tough subjects. At the end of a challenging school day, your child may get easily frustrated with homework, especially if it is in a tough subject. Try to work with them to grasp the importance of each subject.
Be sure to spend time with your child and read to them or have them read to you each night, especially if reading is an issue. Spend at least 10 – 15 minutes for Kindergarten our younger and at least 20 minutes for 1st grade or older.
Stay in communication with your child's teachers. Approaching a teacher to thank them and then ask for advice concerning your child's weaker subjects to help you establish a rapport for any future problems.
Establish a healthy routine and encourage positive habits. Starting a day with a good breakfast after plenty of rest will keep your child alert during the entire school day. There is an extracurricular activity for every child, whether it is art, a sport, or anything else they like to do for fun. End each busy day with a relaxing all-family and/or solo activity, including reading for pleasure.
Consider seeking professional help for your child. Even if you remain open with your child and discuss their anxieties, a caring mental health counselor can teach coping mechanisms and ways to overcome negative thought processes. Seeing a counselor may benefit a child for life.
Your child is not alone in their anxiety and stress at the start of the school year. Parents can take steps to help alleviate the anxiety that comes with the start of a new school year. If you want to equip your child for long-term success, you may need to adopt innovation solutions recommended by both teachers and counselors.
If your child's anxiety stems from his inadequacy or disinterest in reading, most subject areas will be negatively affected. Take a proactive approach by providing new, exciting reading materials outside of the class curriculum.
The Learn to Read Adventures app and book series will be live soon. It will grow your child's love of reading through an interactive adventure story based in real-world geographic regions. Reading for pleasure with Learn to Read Adventures will improve comprehension across multiple subject areas as it builds a broader knowledge of the world and its many cultures in young readers.
Be sure to enter your email in the box on the upper right of this page to be notified when we launch and receive tips on how to help new readers enjoy reading!