Thank you so very much to our 120 amazing backers who brought this project to life. You are helping us to inspire many more young readers to love reading!
We truly appreciate it. It was great seeing "Funded!" on our project page…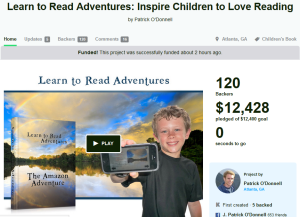 We've always believed that anyone – at any age – can change the world. Maybe this is a small proof of that. What a world we live in today! A 6 yr old comes up with an app idea to help others. We build a beta version & get amazing feedback, so we share the story & now – because of our backers – we're able to help so many more!
Thanks again to our amazing backers…
Leann O'Donnell
Monica Frace
Jerry Ashkouti
Kiki Ferguson
Stephen Wong
Jerry Robb
Carey Christopher
Jim
Scott O'Donnell
Brittany Ferguson
Kathleen Scully
Phyllis Wilson
Stacy McWatt
Mary Petit
Diane K. Bell
Patricia Cordero
Jonathan Maguire
Kevin McGill
Jenn Preston
Chris Markel
Bill Head
Dorron Margalit
Suzanne Clark
Anupama Sekar
Carlos Crispino
David Leis
Mahan
Courtney O'Donnell
Pete Mason
Dee Dee Stevens
Jeff Pucciano
Erin Elder Osben
Silent Legends
Alex Pakdaman
Lauriann Jones
Cherrie Demary
January Carmalt
Whit Lanier
Rachel Morgan Walsh
Jennifer Mitchell
Nelta Clements Latimore
Lori Krugman
blook – a uservox creation
Charlie Seymour Jr
Shana Yadid
Darril Gibson
Brandy Parsonnet
Laurie Stephens
Sherri Beauchamp
Lisa Goodman
John Ehab
Nickster Toys + cozzolino studio
Megan Stewart
Katherine Smith
Tommy Unger
Clare and Glen schelhammer
Adele Houlder
Joe Thompson
Jill Austin
John Mileson
Matt Paul
Kelly Sydney
Kathy Rice
Tasha (Turner) Lennhoff
Steve Morgan
Stacey Porter
Rebecca Valentine
Jeffrey Petit
Todd Cameron Thompson
Todd Harrison
David McCarty
Byron Saltysiak
Margy Jennings
CrossFit PPG
Wilbert Ballard
Frank Mills
Kim Appel
Joseph Paulin
Kristin Ramsey
Marty Wnukowski
Shaun Higgins
Shannon Hook Seyfried
Erin Wisler
Sam Goodwin
Tito Kalb
Mary Knapp
Lisa Mora
Sammy Mc Faddin
Vincent Spears
Brandon Kimble
Claire Hill
Eduardo Zunzunegui
Brian Dimarucot
Michelle Junot
Betsy Smith
Jessica Carter Brace
Jill Bennett
Kara Walsh
Kate Maxwell
John Cote
Shae Ferguson
Jen Bridwell
Oliver Loud
Mark
Julia Portnoy
Andrea Freygang
Christy Guenther
Josh Wills
Lauren McCoy Borowsky
Courtney Snow
Joe Hudson
Michelle Wise
Victoria Clearfield
Ellen Wing